Becoming The Leading Genset Supplier in Malaysia
Genset Rental in Selangor
Today, we have also become one of the most trusted genset suppliers in Malaysia, as we are able to offer great quality, affordable and reasonable genset rental prices to our clients.
While WCM Group has diversified business interests in power generation solutions, property investment as well as oil and gas safety systems and manpower services for both onshore and offshore sectors, our vast experience and expertise in the machinery industry remains the anchor of the Group's overall success. 
WCM Group is led by an experienced management team, with over 200 employees and counting. Across the region, we are serving an extensive network of customers from different industries.
The WCM name is today synonymous with trust and service excellence, two crucial factors that underscores its success.

Contact us now to enquire about our products and services, or to find out more about our genset rental in Selangor today.
The Best Portable Generators in Malaysia
Vision
To be an all-time market leader as a one-stop turnkey machinery solutions provider both in Malaysia and Asia Pacific.
Mission
As a one-stop turnkey machinery solutions provider, our strongest commitment is to ensure customer satisfaction through ISO 9001:2008 Quality Management System that spurs continuous improvement towards achieving the highest quality in our recommendation of solutions in terms of products and services. We have many different types of machineries including portable generators in Malaysia.
WCM MACHINERY SDN BHD was setting out its milestone move in 1989 when it was engaged in a project in Felda palm oil estate known as Sahabat Complex In Lahad Datu, Sabah. Realising the potential for an extensive network of roads needed to service the 116,000 hectares estate, the company offered their expertise in operating a quarry inside Sahabat Complex on behalf of Felda. The business involved rental of a full set of quarry equipment and ancillary machinery as well as providing the workers for operating the quarry. Transportation was also provided to distribute the quarry products to the various schemes within Sahabat Complex for maintenance of existing roads and construction of new roads.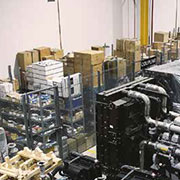 The reconditioning business of WCM MACHINERY has also made tremendous progress. In line with the Malaysian Government's objective in promoting the reconditioning industry as outlined in the Promotion of Investment Act, 1986, WCM MACHINERY took this opportunity to increase business interest in this segment. In the year ended 31st December 1997, about 500 hundred units of heavy equipment were reconditioned and sold
Today, WCM MACHINERY has transformed from a quarry equipment rental company to One Stop Turnkey Machinery Solution provider that service construction, oil & gas, marine, agriculture industries. Equipment that we are renting includes diesel & gas engine power generators, air compressors, welding sets, forklifts and a range of oil & gas support service equipment. Currently, our rental equipment fleet has a total number of more than one thousand units . Across the region, we are serving extensive networks of clients from different industries.